Discover more from Newcomer
Where technology and venture capital intersect: A deeply reported newsletter on the inner workings of the startup industry written by Eric Newcomer.
Over 74,000 subscribers
Give OpenAI's Board Some Time. The Future of AI Could Hinge on It
Sam Altman has had contentious corporate breakups before
Sam Altman is rallying the troops. OpenAI employees are tweeting heart emojis in his defense. Dozens of people, including some OpenAI employees, visited Altman in his Russian Hill home in what seems to be a sort of resistant camp. Airbnb CEO Brian Chesky and Coinbase CEO Brian Armstrong — both among the most valuable Y Combinator portfolio companies — have offered words of support for Altman. Investor godfather Ron Conway compared Altman's ouster by the OpenAI nonprofit board to a "coup that we have not seen the likes of since 1985 when the then-Apple board pushed out Steve Jobs." Microsoft is reportedly working with Tiger Global and Thrive Capital to reinstate Altman. From reading the news or drinking from the Twitter firehose, you would think Altman's return is a fait accompli. One tech Twitter account quipped yesterday when it seemed that Altman's reinstatement could happen any minute, "wow it even took jesus three days."
The public should not want, nor should the OpenAI board give Altman unbridled power to run OpenAI as he pleases. Altman has a history of fractious corporate breakups. People need to reflect on Altman's time at Y Combinator; the Anthropic co-founders' decision to spin off from OpenAI; and his breakup with Elon Musk.
These board members are not the first people to question Altman's integrity. They've just done so in public.
Many OpenAI employees, OpenAI shareholders, and Microsoft seem to want Altman back in charge. That's putting a ton of pressure on OpenAI's nonprofit board — which consists of OpenAI chief scientist Ilya Sutskever, Quora CEO Adam D'Angelo, technology entrepreneur Tasha McCauley, and Georgetown Center for Security and Emerging Technology's Helen Toner — to relent.
(Altman and co-founder Greg Brockman were also on the board until Friday's coup. Altman was ousted. Brockman was removed as chairman but remained at the company until he resigned.)
Altman declined to comment for this story.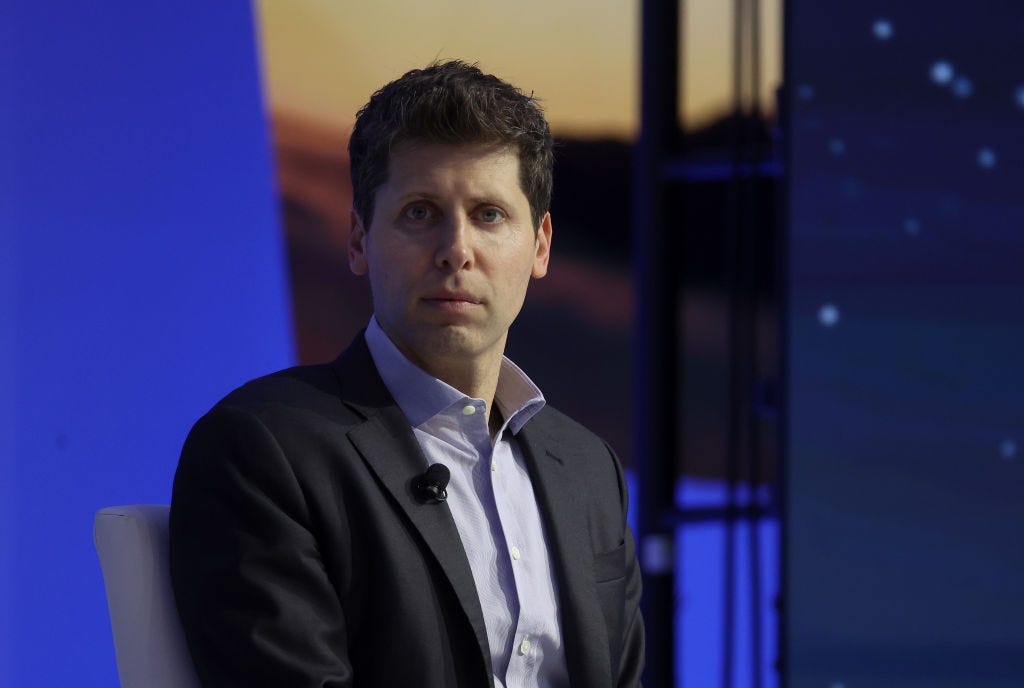 I don't think the board should give in just to escape intense public pressure. But they do need to explain themselves better. They've bungled the public communication so far.
The board hasn't articulated particularly specific grievances. And I don't think there is any one single skeleton that the board is pinning their decision on.
In its statement, the board said it had concluded Altman, "was not consistently candid in his communications with the board."
We shouldn't let poor public messaging blind us from the fact that Altman has lost confidence of the board that was supposed to legitimize OpenAI's integrity.
Once you add the possibility of existential risk from a super powerful artificial intelligence — which OpenAI board member Sutskever seems genuinely concerned about — that only amplifies the potential risk of any breakdown in trust.
My understanding is that some members of the board genuinely felt Altman was dishonest and unreliable in his communications with them, sources tell me. Some members of the board believe that they couldn't oversee the company because they couldn't believe what Altman was saying. And yet, the existence of a nonprofit board was a key justification for OpenAI's supposed trustworthiness.
I don't think any of us really knows enough right now to urge the board to make a hasty decision. I want you to consider a couple things here:
OpenAI's board is not meant to be a normal board. This is a nonprofit board meant to keep OpenAI aligned with a mission in the public interest. It makes sense that this board would operate differently than a traditional toady board on a for-profit company. Altman has consistently pointed to its nonprofit status in promoting and defending OpenAI. He told Congress, "We are governed by a nonprofit, and our activities are driven by our mission and our charter, which commit us to working to ensure that the broad distribution of the benefits of AI and to maximizing the safety of AI systems." This nonprofit board was used to shield OpenAI's reputation. Shouldn't that same board be expected to wield influence when it thinks things are amiss? The whole point of having a nonprofit board is that they could act in a way that frustrates the company's investors.

There are three key historical case studies here: First, Dario Amodei, Jack Clark and the team at Anthropic felt troubled enough by OpenAI's approach that they needed to spin off and create their own more safety and alignment-oriented foundation model company. What (or who) exactly got that team so worried that it needed to jump ship? Altman was certainly at the center of that decision.

Second, as I resurfaced on Friday, Altman's departure from Y Combinator was more contentious than publicly understood. Altman, then YC's president, was asked to leave, a source told me. He left YC without any affiliation even though initially Altman was supposed to be chairman of YC or at least an advisor. Some similar issues were at play. At YC, Altman was distracted with OpenAI; he invested aggressively alongside the accelerator; he wanted to expand dramatically, even trying controversially to launch YC in China (a decision the subsequent YC president reversed); and YC's brand was becoming synonymous with Altman. At OpenAI, Altman has reportedly been talking about starting a hardware company with Masayoshi Son and Jony Ive; he's pushing for faster and faster expansion of OpenAI; and he's certainly become the company's almost singular figurehead. Altman seems to have an almost insatiable appetite to increase his own power and influence. Bloomberg reported that Altman was raising billions for a new chip ventures.

Third, remember also that Elon Musk and Altman had a breakup over OpenAI.
The whispered narrative among Altman's skeptics always went like this: he'd led a failed startup. Paul Graham adored him and Altman was tapped as Graham's successor. Altman leveraged the YC role to amass great personal fame and fortune. But it wasn't clear if Altman was extremely talented or if YC was such a powerful institution that he was benefiting from its aura. Then when OpenAI became a success even Altman's private critics had to accept that it wasn't just the YC title that made Altman great. Altman ran one of the most important startups of the moment that released truly groundbreaking technology. But maybe Altman's private skeptics were too quick to change their tune.

I will say that while the public support for Altman appears all but unanimous, there are some people in private who are more mixed.
I'm sure that writing this cautionary letter will not make me popular in many corners of Silicon Valley. But I think we should just slow down and get more facts. If OpenAI leads us to artificial general intelligence or anywhere close, we will want to have taken the time to think for more than a weekend about who we want to take us there.
Altman could always decide just to start a new company, taking employees and OpenAI co-founder Greg Brockman with him. If OpenAI's board is only left with a decimated nonprofit, then the board's poor strategy here may end up giving Altman more unilateral authority over the future of AI — just within another entity. This could end up being a major setback for unique structures to control AI companies. I hope that's not how this plays out.
As a piece of context on this whole situation, a number of departures from OpenAI's board helped give the remaining board members more influence. Reid Hoffman, Shivon Zilis, and Will Hurd exited the OpenAI board this year. My sense is that the current board's decision has been stewing for a while. The departure of those three board members gave the remaining members more voting power.
Altman is clearly a talented recruiter and relationship builder. He's adored by many employees and investors. He's become a great public advocate for AI and an influential figure in Washington. He's helped catapult OpenAI to a potential $86 billion valuation while operating as part of a nonprofit with capped returns for investors.
Altman had been given a lot of power, the cloak of a nonprofit, and a glowing public profile that exceeds his more mixed private reputation.
He lost the trust of his board. We should take that seriously.
Let's give the board and Altman's critics some time to explain themselves and to articulate a vision for how OpenAI might move forward without putting Altman back in charge.