Cerebral Valley AI Summit 2: Reid Hoffman & Vinod Khosla Offer Competing Visions of Our AI Future
We just wrapped our second AI conference co-hosted with Volley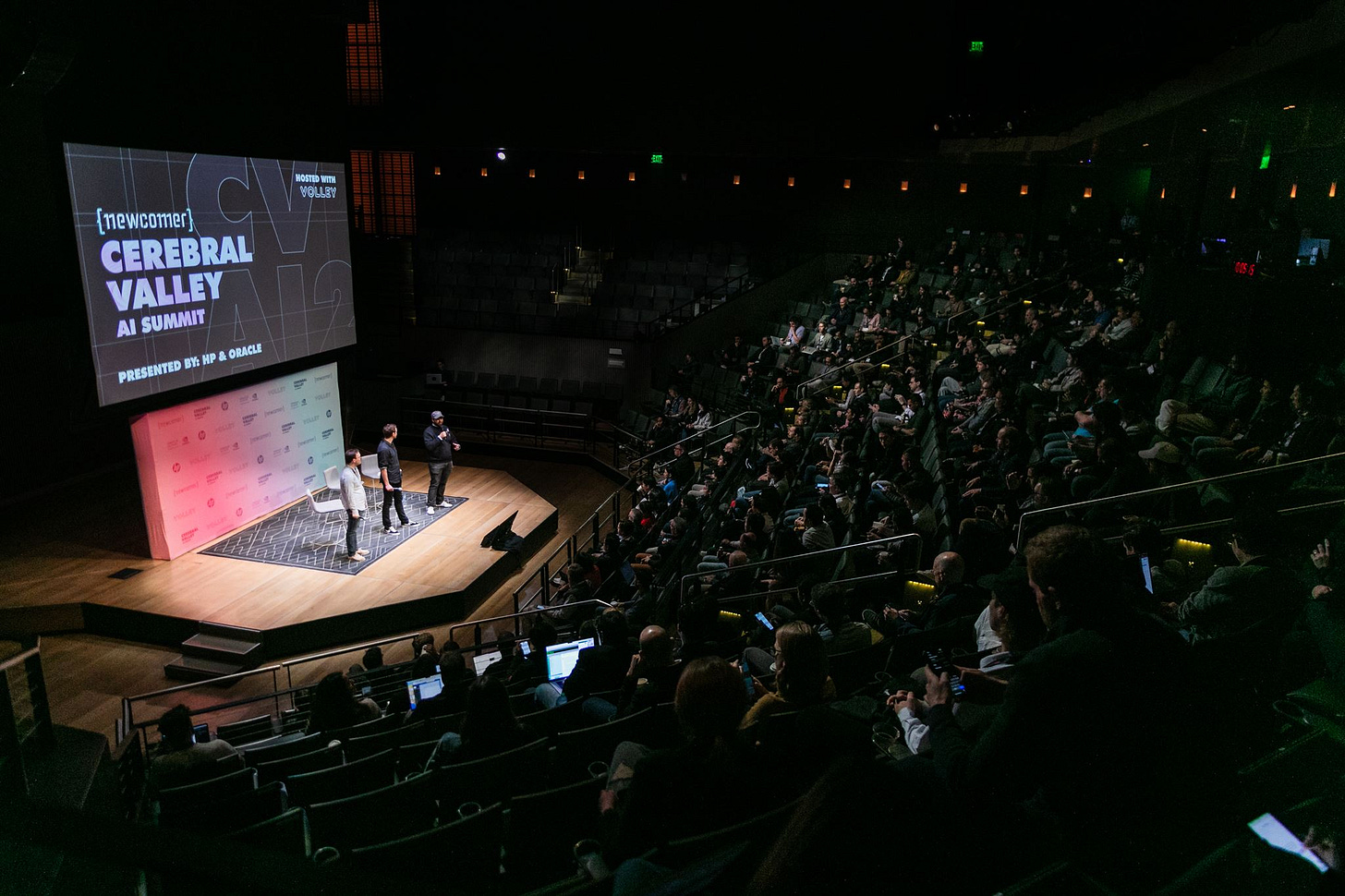 Moderating six panels in a day in front of a 300-plus person audience is a trip. The day is flowing through you. You're hyper aware of the world in front of you. The outside world disappears from your mind. Time moves strangely.
I had the privilege yesterday of talking on stage at the Cerebral Valley AI Summit with Mustafa Suleyman, Vinod Khosla, Reid Hoffman, Chase Lochmiller, Ali Ghodsi, Naveen Rao, and Clara Shih. Now I've been able to take a few hours and reflect on the whirlwind event.
---

Thousands of enterprises around the world rely on Oracle Cloud Infrastructure (OCI) to power applications that drive their businesses. OCI customers include leaders across industries, such as healthcare, scientific research, financial services, telecommunications, and more.
NVIDIA DGX Cloud on OCI is an AI training-as-a-service platform for customers to train complex AI models like generative AI applications. Included with DGX Cloud, NVIDIA AI Enterprise brings the software layer of the NVIDIA AI platform to OCI.
Talk with Oracle about accelerating your GPU workloads.
---
Some takeaways:
Suleyman is one of the top AI thinkers in the world, having founded DeepMind in 2010, before the world shared his obsession with artificial intelligence. Now he's the CEO of Inflection, an emotionally intelligent foundation model company that he co-founded with Hoffman. It's as close to a therapist as you're going to find in an AI chatbot.

You probably know of Hoffman, he's the LinkedIn co-founder, Inflection co-founder, famous investor, and major Democratic donor. He told us on stage he met with Joe Biden the day before our conference. Hoffman said he was impressed by the president's intellectual curiosity on AI.

Khosla was his spicy self, firing off ripostes. He won over the crowd with a call for welcoming high-skill immigrants into the United States and walked away a pretty unanimous crowd favorite.

We started the day with Ghodsi, the charming and feisty Databricks CEO, and Rao, the founder of MosaicML, who have been Cerebral Valley stars from the beginning. Their introduction at Cerebral Valley's first speaker dinner in March has become a thing of lore, earning a detailed portrait in Fortune and driving Business Insider to call Cerebral Valley "the AI conference that spawned a $1.3 billion deal." Ghodsi and Rao dished on how they met and their plans in artificial intelligence. They'd just announced that customers could query their data in the cloud via plain English.

My co-host James Wilsterman got a rare interview with Waymo co-CEO Dmitri Dolgov. James had been riding around in Waymos for the past couple weeks ahead of the interview. On stage, he pressed Dolgov about Waymo's reaction to competitor Cruise's pause of operations in San Francisco after an accident involving a Cruise vehicle and a pedestrian.
The first Cerebral Valley AI Summit, back in March, began with my bachelor party. I was headed to California for a weekend away with my friends, including Volley co-founders Max Child and James. Max and James had a big open office in the heart of Hayes Valley. So, they said, why not host a small event at their office to turn the trip to California into a genuine business trip? That small event quickly spiraled into an all-day elite tech conference when people like Emad Mostaque at Stability, Bucky Moore at Kleiner Perkins, and Miles Grimshaw at Benchmark signed on to participate. On March 30, we had a 200 person conference at Volley's office. It was a blast. But we didn't have much space for people to sneak away and do deals, so I had to spent some of my time shushing some very rich people.
This year, felt so crazy in AI that we couldn't wait a whole year to host another AI conference. This time we rented out the SFJazz Center (no shushing necessary) and hosted more than 300 top AI startup founders, investors, and tech operators. HP and Oracle signed up to be our top sponsors.
Max interviewed Writer CEO May Habib and Snorkel AI CEO Alex Ratner on one panel. And he fanboyed with programmer god Chris Lattner on another. Lattner, a former senior Apple executive, predicted that his former employer would finally fix Siri, which has fallen behind other AI applications, next year. However, he was not so bullish about another former employer, Tesla. The once head of Tesla autopilot said he did not think Tesla would reach parity with Waymo by 2025.
James, Volley's CTO, jammed with another former CTO, Dmitri Dolgov, the co-CEO of Waymo. He also sat down with vice president of Alexa devices at Amazon Nedim Fresko. I tapped some reporter friends — Alex Konrad, Ellen Huet, and Casey Newton to moderate the remaining panels.
The conference was a true clash of ideas and ideals. Hoffman said that he was going to spend a big chunk of his time supporting Biden's reelection, that he didn't want to ban TikTok, and that he isn't particularly worried about existential risks of AI. Hoffman's Inflection co-founder, Suleyman, is more worried about the potential risks, having penned a book that warns of many otherwise smart people's "pessimism aversion." The Coming Wave can feel like it was written by someone who was locked away in the pandemic worried that their life's work was going to bring about the end times. Meanwhile, Khosla wanted to ban TikTok. He also said he was frustrated about Lina Khan's antitrust efforts at the FTC thanks to Biden. And even though Khosla doesn't think AI is going to cause society-ending problems, he's opposed to important research in AI happening in open-source AI projects because he doesn't want China to be able to benefit from research in the United States. Holden Karnofsky, the director of AI strategy at Open Philanthropy and husband of Anthropic co-founder Daniela Amodei, was the strongest voice for caution about potential risk in AI. He called for strong red lines that would force companies to halt work on AI if their foundation models exceeded their abilities to contain them.
OpenAI CEO Sam Altman made a brief appearance at our speaker dinner. I overheard one startup CEO say, essentially, "I don't want to compare him to Taylor Swift but—"
You can read on for an in-depth summary of the panels. As soon as we can we'll begin posting videos of the talks in this newsletter. I want to thank Riley Konsella, Newcomer's chief of staff and Volley's Gaby Caliendo for their tireless work making both Cerebral Valleys a reality. Also, thank you to Volley's Kelly Chronis, Christina Morris, Laura Cheney, and Riyadh Drebika.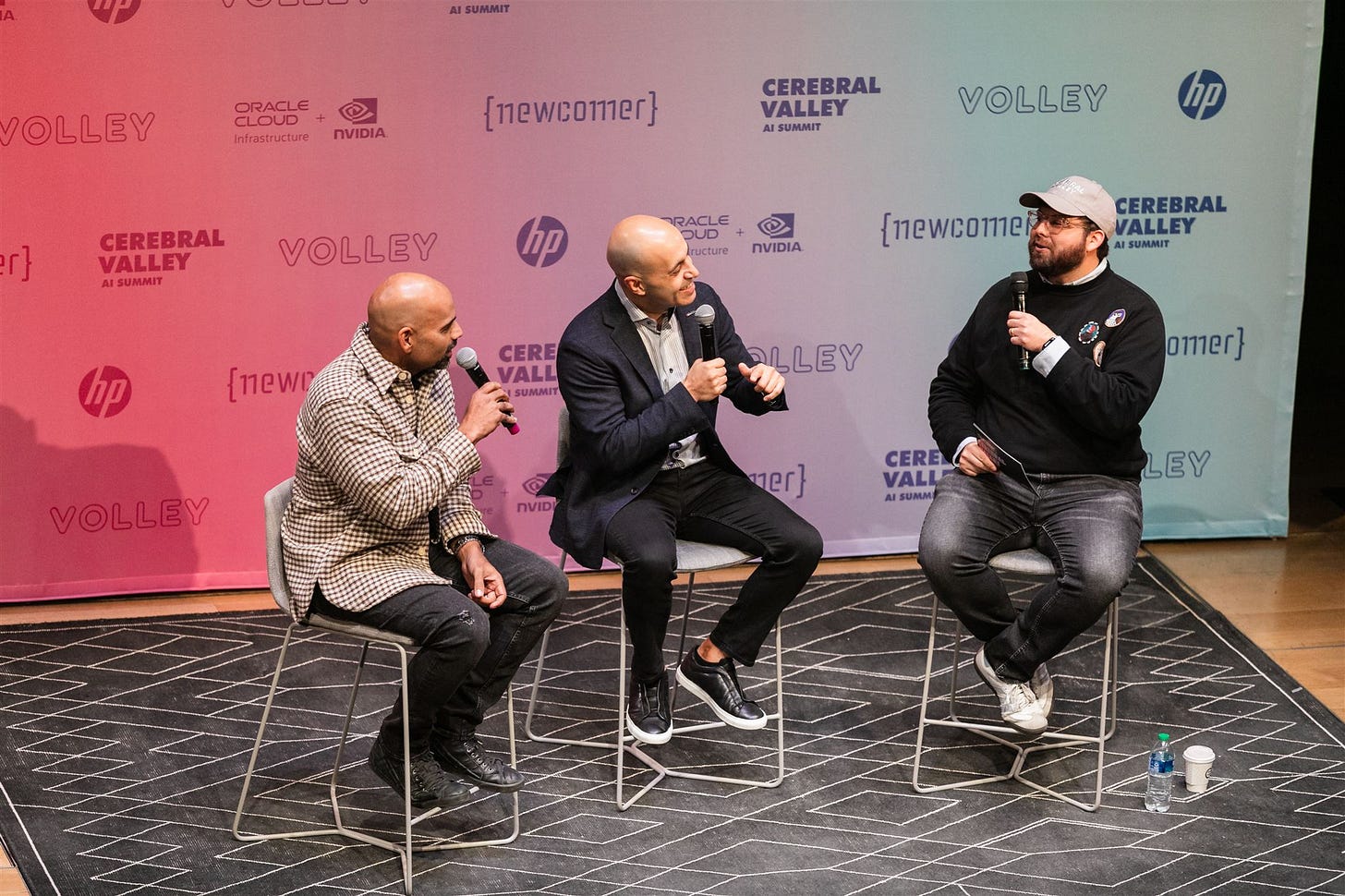 This post is for paid subscribers